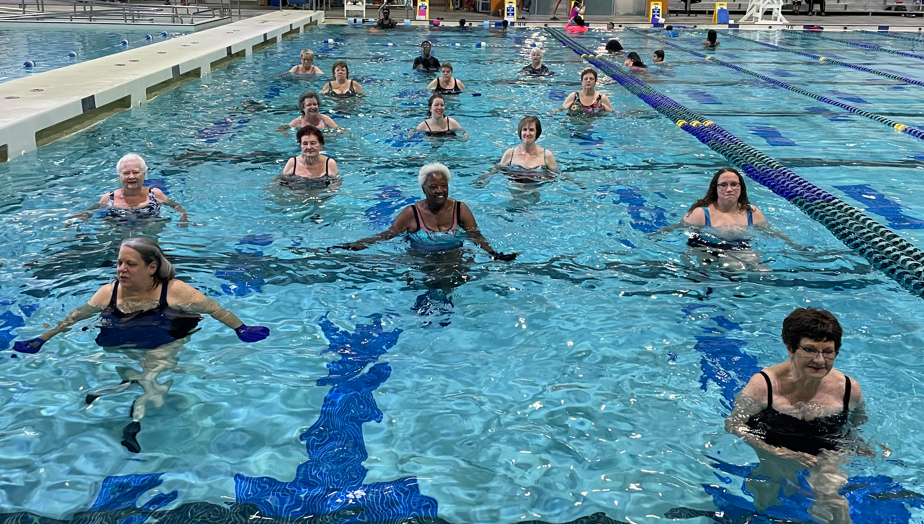 According to the Statista Global Consumer Survey the Top New Year's Resolution for 2023 is to exercise more. We all know that exercise is good for us, but we also know that New Year's Resolutions are frequently broken. Why do people so often stop exercising? According to an article in Diabetes in Control, the reasons are (1) A perceived lack of time, (2) Exercise related injuries and (3) Exercise is not fun (which is often due to starting at an exercise intensity that is too high for their fitness level). Here are some suggestions to deal with each of these problems:
(1) A perceived lack of time. People who successfully incorporate exercise into their lives often dedicate a specific time in their schedule for working out. They plan to exercise at 9:00 AM 3 times a week, or at 6:30 PM after work on Tuesdays and Thursdays. Then they don't schedule anything else for those times. An easy way to do this is to sign up for a class that is offered at the time that is most convenient for you. People don't often think of water exercise as an option in January, but exercising in an indoor heated pool has its advantages over going for a jog outdoors in cold weather in the dark. According to an article in Healthy Body at Home, it takes an average of 59-66 days to create a new habit, so make an effort to stick with your class for 2 months.
(2) Exercise related injuries. The hydrostatic pressure of the water slows movement down, which greatly reduces the risk of injury during water exercise. It also reduces the risk of falling. Accidents can happen anywhere though, so make sure your pool is staffed with lifeguards.
(3) Exercise is not fun. Do you remember how much fun you had playing in the water as a child? For many people, water exercise brings back that sense of fun. At the same time you can achieve intensity levels that allow you to meet your fitness goals. That means it is possible to start at an exercise intensity that is too high for your fitness level, which can be discouraging. Instead it is a good idea to start at a moderate level (you could do this for a long time), and progress to working somewhat hard (you are starting to feel it), and then hard (making an effort to keep up), before progressing to very hard with high intensity intervals.
Here are some guidelines to help you work through these progressions. In shallow water the base moves are walk, jog, kick, rocking horse, cross-country ski, and jumping jacks. Walking is good for warming up and cooling down. Jog, kick, rocking horse, cross-country ski, and jumping jacks all have multiple variations. (1) Jog. You can jog with the feet hip distance apart or wide. You can cross the midline in front with an inner thigh lift or cross the midline in back with hopscotch. You can lift the knees in front or the heels in back. (2) Kick. You can kick forward, kick across the midline, kick side to side, or kick backward. (3) Rocking horse. Rocking horse can be done front to back or side to side. (4) Cross-country ski, jumping jacks and all the base moves can be varied by using different arm movements or different foot positions. While performing these moves, your heart rate and breathing rate should increase noticeably. Your muscles will feel like they are working, but you could maintain this level for a while before having to stop. You may compare this to a brisk walk.
Increase the Range of Motion. When working at a moderate pace becomes easier, it's time to go to the next stage. Large moves take more effort than smaller moves. Increasing the range of motion increases the intensity to somewhat hard. Get the knees high in your jog and pump the arms in big movements. Start your inner thigh lift with the feet wide apart and lift the inner thigh high. Start your hopscotch with the feet wide too. Kick higher – front, side or back. Lift your knees high in front and your heels high in back with your rocking horse. Perform cross-country ski with your full range of motion. Take your feet as wide as possible in your jumping jacks and cross the legs in the center. Focus on achieving your full, pain-free range of motion. At this level your heart rate, breathing pattern and muscles are telling you that you are working hard. You have to breathe through your mouth since nose breathing is not enough to give you the oxygen you need. You are past the point of feeling like you could do the exercise all day.
Add Speed. When increasing the range of motion becomes more comfortable, it's time to add speed. Faster moves increase the intensity level to hard. The tendency, however, is to decrease the range of motion as speed is increased. You work much harder if you maintain the same full range of motion while speeding up. Pay attention to what you are doing to avoid slowing down. Your heart is pounding, you are breathing hard and you would rather breathe than talk. You can only say 2-3 words before you have to take a breath. This intensity is not comfortable and cannot be maintained for a long time.
Add Acceleration. Once your body gets used to working hard, it's time to push it up to very hard by adding acceleration to your moves. There are two ways to add acceleration. (1) Accelerate off the pool floor, or jump. Take your jog to a leap and your wide jog to a frog jump. Perform your inner thigh lift and hopscotch with a rebound. Rebound with your kicks as well. Jump and tuck your feet under you with cross-country ski. With jumping jacks, jump and touch your heels together before landing with your feet wide apart. (2) Accelerate against the water's resistance, or add more force to the move. Take your jog to a steep climb by stretching out your arms and pressing alternate hands down while at the same time lifting the knees high and then pressing the heels down toward the pool floor, as if climbing a steep mountain with trekking poles. Lift your inner thigh with power as you press the opposite hand down forcefully toward the thigh. Perform a high kick powering the leg on the downward phase or power both upward and downward. Kick side to side with arms and legs opposite, adding power to the move. Instead of rebounding as you kick side to side, you can stay grounded, and you might be surprised at how hard it is. Karate front kicks and side kicks also involve using force against the water. Kicks backward, cross-country ski and jumping jacks can all be performed with power. Try the cross-country ski low in the water so that more of your body must push against the water's resistance. Be mindful about what you are doing because the harder you push against the water, the harder the water pushes back. Forget talking at this level. You may be able to belt out one word at a time, but you don't want to because breathing is your goal. Your muscles are screaming for oxygen and therefore your breathing pattern and heart rate is rapid. This intensity level is reserved for shorter intervals, and you are so glad that there is a limit.
This description of aquatic exercise intensity levels comes from the Aquatic Fitness Professional Manual. Lesson plans that demonstrate how to progress through these intensity levels can be found in Water Fitness Progressions. Good luck with your New Year's Resolution to exercise more. See you in the pool!