The Coronavirus is mutating and newer variants have emerged in the United Kingdom, South Africa and Brazil. These variants are more contagious than the version that is currently causing most of the cases of COVID-19 in the United States. The new variants have already been detected in the United States and may become more dominant here in the coming weeks. It is therefore important to continue wearing masks, stay 6 feet apart and avoid crowds. COVID-19 spreads mainly from person to person through respiratory droplets. Respiratory droplets travel into the air when you cough, sneeze, talk, shout, or sing. These droplets can then land in the mouths or noses of people who are near you or they may breathe these droplets in. Masks are a barrier that prevents your respiratory droplets from reaching others. Masks also offer some protection to you as well. To increase the protection when you are going to be in an area with a lot of other people, you might even consider wearing two masks. Medical masks and N-95 respirators should not be used because they should be conserved for healthcare personnel. Aside from those, there are several varieties of masks available, and some of them are more effective than others.
Non-medical disposable masks are made of fluid resistant paper and are recommended by the CDC. They are not the same as surgical or other medical masks. They are good in situations where your mask is likely to get wet or dirty. Bring extra disposable masks with you in case you need to change out a wet or dirty mask. Discard them after a single use.
Cloth face masks made with breathable fabric, such as cotton and cotton blends are also recommended by the CDC. The fabric should be tightly woven. Hold the fabric up to a light source and if you can see light through the fabric, then it is a loosely woven or knit fabric, which is not recommended. If you don't see light through the fabric, then the material is tightly woven. There should be 2 or 3 layers of fabric. Single layers work less well because there is not as much material between you and the microbe.
Masks with an inner filter pocket are also recommended by the CDC. Use a PM2.5 filter or a HEPA filter, which can be purchased online. You can also use a coffee filter cut to fit. The filter can be reused, but discard it after a week, or sooner if it is used every day.
Gaiters are not recommended because they tend to be single-layer cloth, and they do not usually offer a snug fit.
Scarf and bandana face masks are also not recommended. Not only is the fabric single layer, it most likely will not be tight around the mouth and nose. Good fit matters.
The CDC does not recommend using masks with exhalation valves or vents because this type of mask may not prevent you from spreading COVID-19 to others. The hole in the material may allow your respiratory droplets to escape and reach others.
Make sure your mask fits properly. The more snug the fit, the better. Avoid masks with gaps that allow droplets to escape. Do not wear a mask with your nose or mouth uncovered.
If you have a disposable mask, throw it away after wearing it once. Wash a cloth mask whenever it gets dirty or at least daily. It was previously recommended that you wash your mask in a bleach solution, but that is no longer recommended because toxic bleach fumes can remain in the fabric. The CDC now recommends that you wash masks in the washing machine with your regular laundry, using laundry detergent and the appropriate settings according to the fabric label. You can also wash by hand with detergent or soap, being sure to rinse thoroughly. Dry your mask completely in the dryer. You can also hang it in direct sunlight. If that is not possible, hang or lay it flat and let dry completely.
If you are taking your mask off temporarily, for example to eat or drink outside of your home, you can place it somewhere safe to keep it clean, such as your pocket, purse or a paper bag. Make sure to wash or sanitize your hands after removing your mask. Put your mask back on with the same side facing out, and wash or sanitize your hands again afterwards.
For more information on masks see the January/February AARP Bulletin "How to Beat COVID This Year." Also see the CDC Guidelines for Wearing Masks and the CDC Guidelines on How to Store and Wash Masks.
Stay safe!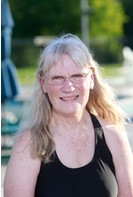 Chris Alexander