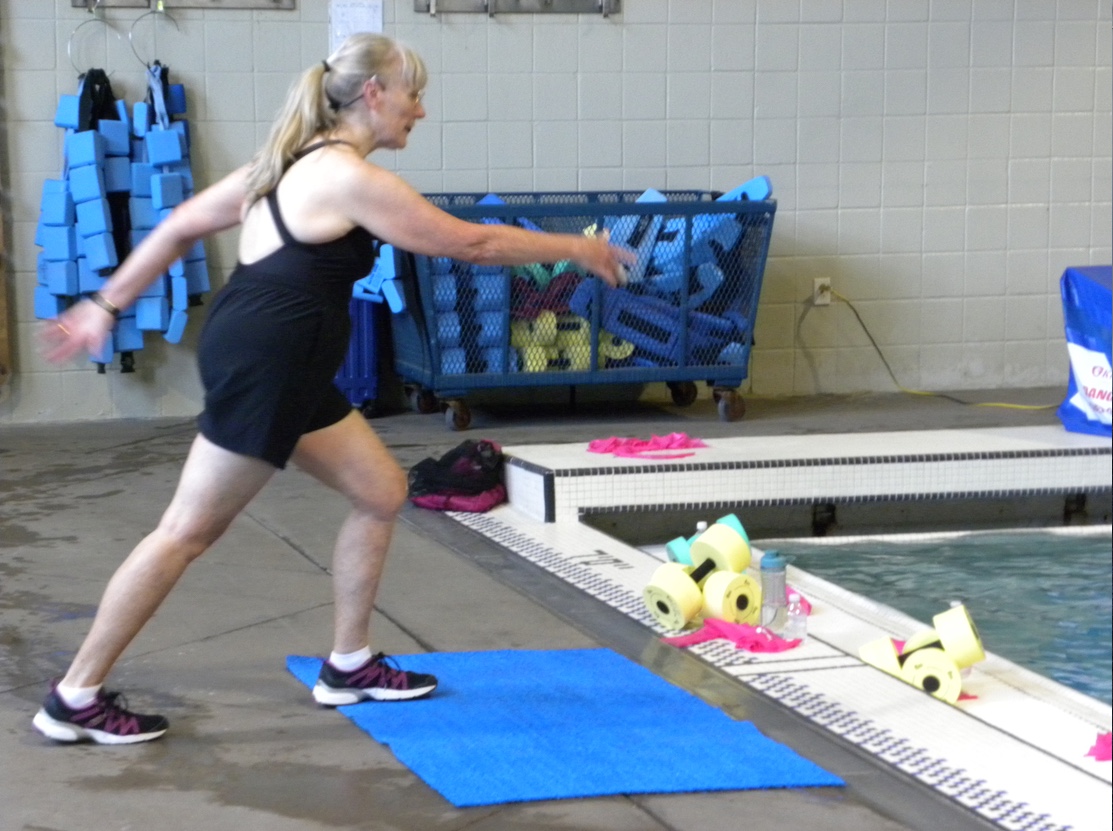 Do you take a water fitness class? Do you like to be in the front of the class so that you always know what is going on? Do you like helping new participants feel comfortable in class? Are you naturally outgoing? Have you thought about becoming a water fitness instructor?
I'd like to invite you to take my Water Fitness Instructor Basic Training class. It is being offered on October 21 and 28 from 10:00 AM – 2:30 PM at the McKinney Senior Pool, 1400 South College Street, McKinney, Texas 75069. Participants need to attend both days. It is an opportunity for you to learn what is required in order to teach a water fitness class. You will not have a certification at the end of class, but you will have a foundation to begin working toward a certification.
We spend a good portion of the first day on anatomy. It is important to know something about the muscles and to be familiar with movement terminology so that you will know what muscles you are using in any given exercise. That way you can plan a well-balanced water fitness class for your participants. The second day includes an open-book quiz to give you practice in using a chart to figure out what muscles you are using in a variety of exercises.
We cover good body alignment, because neutral posture is important for safe exercise. We talk about the fitness recommendations of the American College of Sports Medicine. You will learn ways to judge whether you are working in your target heart rate zone. Since you are exercising in water, you also need to know the properties of water that make water fitness different from land exercise.
Of course we will talk about how to plan a water exercise class. You will learn what the parts of a class are, how to increase and decrease intensity, how to use various types of water fitness equipment safely, and a variety of choreography styles. I also spend some time on contraindications, things to avoid because they might lead to an injury later on. You get a list of websites where you can go for equipment, choreography ideas and music, plus information on how to get certified and how to get continuing education.
I teach a sample class on the first day. You can keep the lesson plan for your own use later on. On the second day, you teach a 5 to 8-minute sample class to give you practice cuing and demonstrating exercises. After that you can get on the sub list for the McKinney Senior Pool. Or you can get started on your certification, so that you will be qualified to teach at any facility you choose. To see a list of facilities in the Dallas area that are looking for instructors, check out the Jobs page of the website of the Metroplex Association of Aquatic Professionals at www.maapdfw.com
If this sounds like something you would like to do, you can register on the McKinney Parks and Recreation website at https://webtrac.mckinneytexas.org On the Home page click the Search button. On the drop down window click Activities. In the Type window click Aquatic Classes. The class is listed at the bottom of page 2. The cost is $60 for McKinney residents and $65 for non-residents. All materials for the class are provided. Click on the address of the pool above for a link to a map to the facility.
I hope to see you there!
Chris Alexander