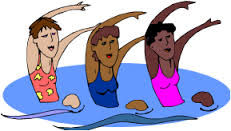 Do you like being active? Do you enjoy the water? Do you like helping people? Are you interested in being a water fitness instructor?
There is a shortage of water fitness instructors in the Dallas-Fort Worth area. Check out the Job Postings on the website of the Metroplex Association of Aquatic Professionals at www.maapdfw.com to see how many facilities are looking for instructors. So how do you go about becoming a water fitness instructor? I'm glad you asked! You can sign up for my class coming up in October.
Beginning Water Fitness Instructor Class
Saturday October 3 and Saturday October 10 – Participants attend both days
Time: 10:00 am to 2:30 pm
Cost: $60 for residents of McKinney, $65 for non-residents
Location: McKinney Senior Pool, 1400 S. College Street, McKinney, TX 75069
To register, go to https://webtrac.mckinneytexas.org or stop by the pool and register in person or call 972-547-7495 for assistance.
The class gives basic information necessary to teach a water fitness class.
Some of the things you will learn are:
The names of the muscles and how they work during exercise
How to increase and decrease intensity so that you achieve your target heart rate
The properties of water and how to manipulate them during a water fitness class
How to use various kinds of equipment
The class is ideal for people who want some idea of what they have to learn before they sign up to take a certification test, for people who have lots of questions, and for people who do better with hands on experience than with just reading a book.  The next step is to sign up to get a certification. A good entry level certification is offered by the United States Water Fitness Association (USWFA). You do not have to take my Beginning Water Fitness Instructor course in order to get their certification. If you have some fitness experience and don't feel like you need any additional training, you can contact the USWFA directly at www.uswfa.org. The cost for a certification is $247. They will send you a water fitness instructor manual, an open book test, and some forms to fill out, which you will bring to a National Testing Day (NTD). At the NTD you take a closed book test and teach an 8-minute sample class. The instructor-trainer tells you at the end of the day whether you passed. After that, you can contact some of those facilities looking for instructors and get your own class.
See you in the pool!