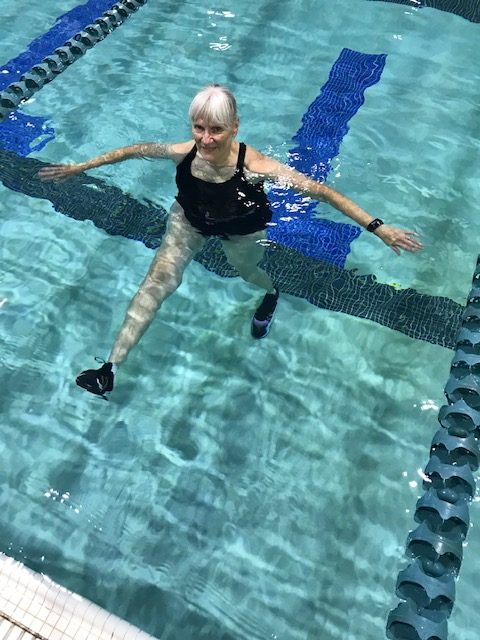 Here we are at the beginning of 2021 and not sorry to see the end of 2020. Many of us had to give up our fitness routines last year because COVID-19 closed the gyms and we were sheltering in place. And many of us lost some level of fitness and gained weight as a result. Now we have vaccines, and although we have to continue to wear masks and social distance for awhile longer, we can look forward to the day when it will be safe to get back to working out as we did before COVID. Even if your fitness routine did not previously include water exercise, there are many good reasons to consider working out in the pool. The properties of water provide these benefits.
Buoyancy. Buoyancy is the upward vertical force of water. This force allows you to float and decreases the compression of your joints. As a result, you are able to exercise with greater range of motion, which improves flexibility. People with joint issues experience decreased pain, which is why water exercise is so popular with people who have arthritis. Buoyancy reduces the body's weight by 90% in neck deep water, by 65-75% in chest deep water, and by 50% in waist deep water. People who cannot exercise on land, where they must bear their full weight, are able to exercise comfortably and vigorously in the water. Water exercise is ideal for the obese who tend to drop out of other forms of exercise because it is too uncomfortable. Buoyancy is responsible for the feeling of fun many people experience in the water, even when they are working hard. It is the reason why so many people who try water exercise end up staying with the program.
Drag Resistance. It is often said that the resistance of water is 12-14X greater than the resistance of air on land. In fact, the resistance depends on how much force you are using when you move your limbs through the water, since the harder you push, the harder the water pushes back. Drag resistance slows movement down. This allows you to perform rebounding moves and other sports-based activities without risk of injury, while at the same time improving skills. Drag is experienced with every movement in every direction, which means you have a constant muscle load provided by water. People who exercise in water see improved muscular strength and endurance. Both of the muscles in opposing pairs are worked equally, which promotes muscle balance. It used to be thought that water exercise was not a good option for maintaining or improving bone density. But when researchers looked at water exercise as resistance exercise instead of weight bearing exercise, they designed experiments in which participants performed strength training exercises with maximal effort and without shortening the range of motion. The results were increased bone formation in post-menopausal women. Similar results were obtained in a study that looked at aquatic high intensity interval training. The key for both is maximal effort and full range of motion.
Hydrostatic pressure. Hydrostatic pressure is the pressure exerted by the molecules of water on an immersed body. This pressure is exerted equally on all surfaces of the body, and it increases with depth. Hydrostatic pressure decreases swelling, especially in the lower extremities which are immersed more deeply. This is one reason why aquatic physical therapy is often prescribed for certain injuries and conditions. Hydrostatic pressure is exerted on the chest cavity, which helps condition the muscles of respiration to inhale deeply and forcefully.
Water exercise improves cardiovascular fitness. Immersion relaxes the blood vessels so that they can carry more blood while presenting less resistance to the heart, which is pumping that blood. This decreases blood pressure. Decreased blood pressure lingers for awhile after you get out of the pool. With regular aquatic exercise, the vessels themselves become more pliant and supple. Since stiffening of the blood vessels is a primary factor that causes blood pressure to increase with age, keeping them pliant reduces the risk for hypertension. The hydrostatic pressure of the water pushes blood out to the extremities, and in combination with more supple blood vessels, stroke volume and cardiac output increases. This means that the heart becomes more efficient, pumping more blood with each stroke. Blood flow to the muscles during water exercise can increase an amazing 250%. With this kind of blood flow, heart rate is lowered. Target heart rates while exercising in shallow water average about 7 beats per minute lower than the same intensity exercise on land. The exact number of beats depends on many factors, including the fitness level of the individual. An added benefit of increased cardiac output is that a greater blood volume is pushed through the kidneys, which in turn improves kidney function and increases urine output.
The working muscles and kidneys are not the only beneficiaries of improved cardiac output. Blood flow to the brain increases progressively with immersion from zero depth to shoulder depth. The blood flow persists throughout the exercise period, delivering oxygen and nutrients which the brain uses to repair and regenerate brain and nerve cells. It is reasonable to assume that this would help slow the deterioration of age-related brain performance.
Conclusion. Water's properties of buoyancy, drag resistance and hydrostatic pressure have many benefits. Water exercise improves flexibility, decreases pain, allows you to exercise comfortably, slows movement down reducing the risk of injury, improves muscular strength and endurance, promotes muscle balance, increases bone formation in post-menopausal women, reduces swelling, conditions the muscles of respiration, improves cardiovascular fitness, decreases blood pressure, improves cardiac output, improves kidney function, and slows the deterioration of age-related brain function. As if that weren't enough, most people perceive water exercise as fun. When it is time for you to resume a pre-COVIC exercise routine, I hope to see you in the pool.
Resources: Information for this article comes from Dr. Bruce Becker, Director of the National Aquatics & Sports Medicine Institute and other researchers https://www.playcore.com/programs/water-immersion-works and the Aquatic Exercise Association's Aquatic Fitness Professional Manual (2018) https://aeawave.org/Shop/Books For more information on water exercise, see my book Water Fitness Progressions available from Amazon.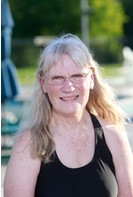 Chris Alexander