An important exercise to add to your fitness routine is the squat. A squat is a functional movement because you use it whenever you sit in a chair, get into the car, use the toilet, or pick up a basket of laundry. Practicing the squat will enable you to continue to perform these activities of daily living much longer. Squatting uses your hips, knees, ankles, glutes, quads and core. Strengthening these muscles in your lower body will also make you more stable and help prevent falls.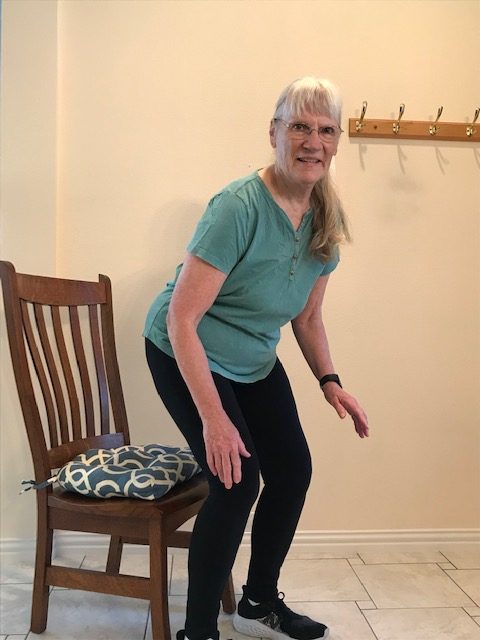 So how to get started? Begin by sitting in a chair and standing up. If this is difficult, then hold on to a table or counter while performing the move. Progress to sitting down and standing up without holding on. When you are comfortable with this, see how many times you can sit down and stand up in 30 seconds. The goal is 12 repetitions.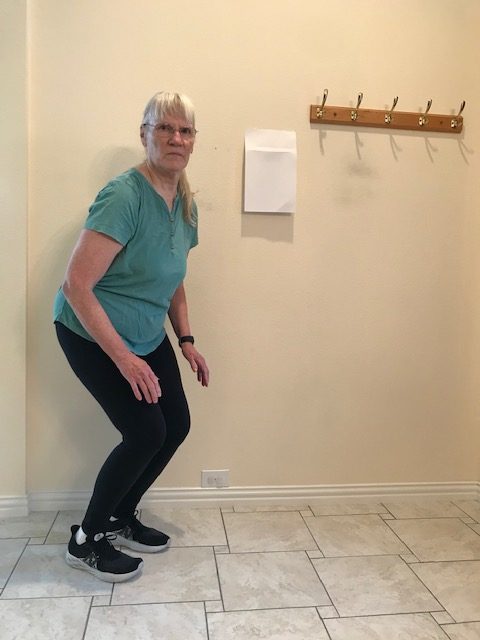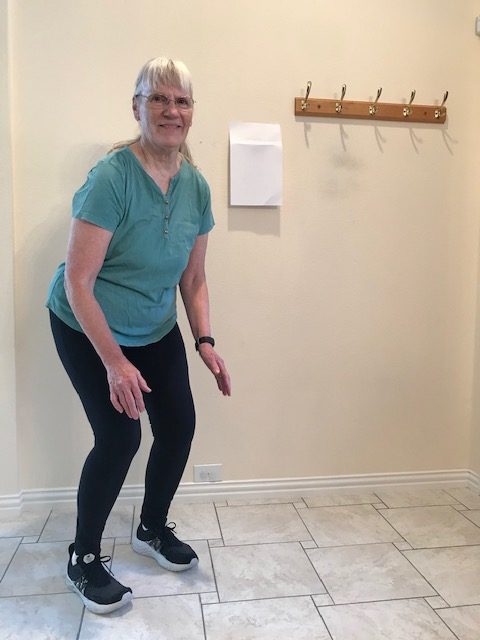 The next progression is to squat without a chair. How deeply you squat is not important, but make sure your knees are not projecting forward over your toes, as in the first picture. Instead, bend forward from your hips while keeping your knees aligned over the toes, and your weight on your heels, as in the second picture. You will feel it mostly in your quads and glutes. There are several ways to vary the squat. Try squatting with the feet close together or wide apart. You can also try the squat with one foot in front of the other. A lunge is essentially a one-legged squat, with the weight on the front leg and the back leg assisting with balance. Another progression is to hold weights while squatting. If you have a bar you can hold onto, you can take your squats deeper. To see a video with additional information about squats, check out the Being Balanced website at https://www.beingbalancedmethod.com/fitness-videos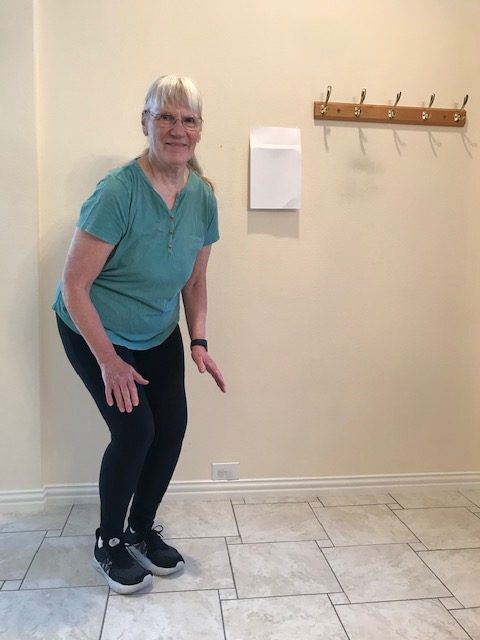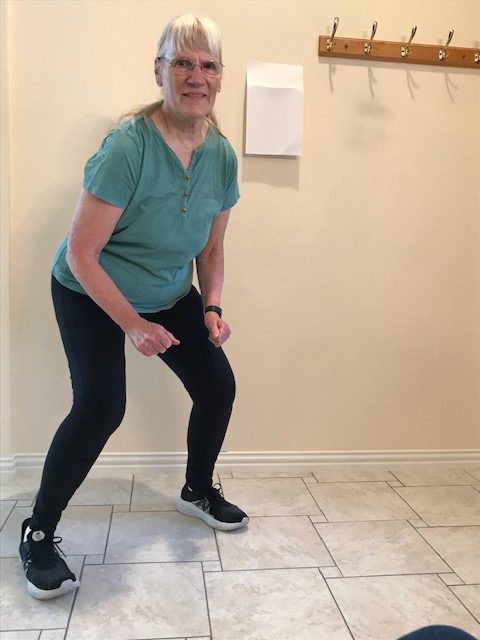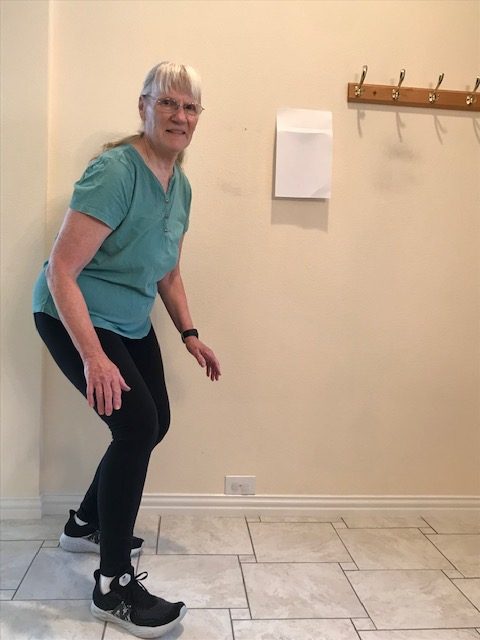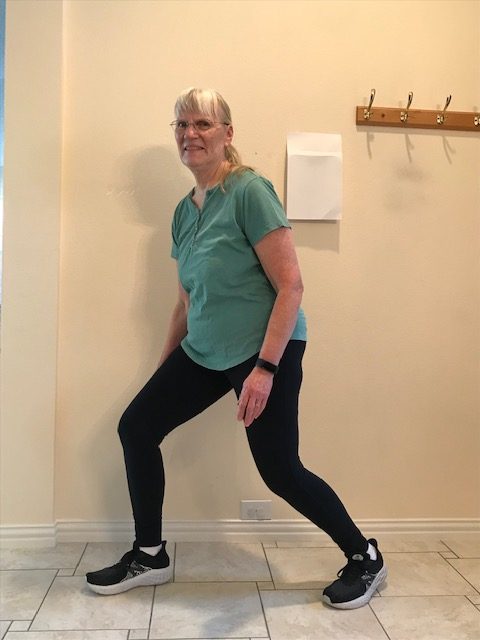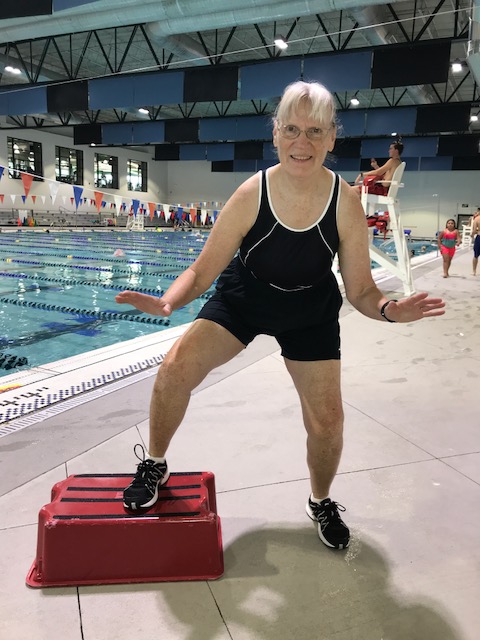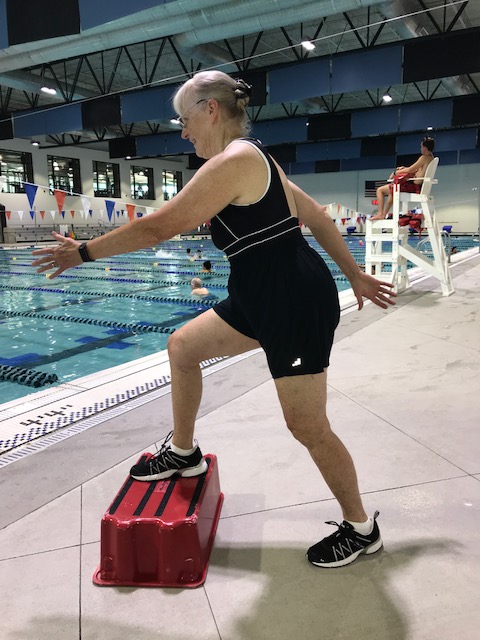 Take Your Squats to the Pool. When you squat on land, gravity assists as you lower your body, and the quads and glutes do the work as you rise. The dynamic is different in the water. There buoyancy assists you to rise, and the hamstrings do the work to lower your body toward the floor. This is not necessarily a bad thing. You can increase the work for the hamstrings by holding buoyant equipment, such as foam dumbbells, down by your sides as you squat. One way to work the glutes and quads in the pool is to do squats and lunges on an aquatic step. In this way, more of your body is out of the water and therefore gravity comes more into play. Another way to work the glutes and quads is to perform rebounding moves in which you push off from the floor with both feet. Examples are cross-country ski, jumping jacks and various kinds of jumps, as in the pictures below.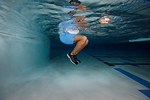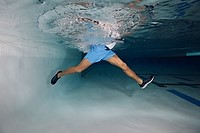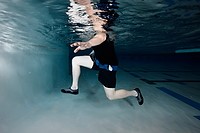 Squats and jumps are not options in deep water, but there are other exercises that can be used to work the glutes and quads. One option is to focus on pressing the heels toward the pool floor during a knee-high jog. You can perform a seated leg press, an action similar to using a leg press machine, or rock climb, leaning forward and moving the arms and legs as if climbing a rock wall. Glutes can be worked individually with a cross-country ski or skate kick; and quads can be worked individually with a seated kick. All the underwater photos are from my book Water Fitness Lesson Plans and Choreography.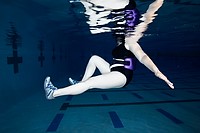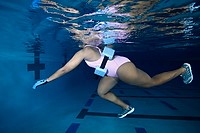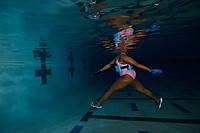 Recommendation: To be able to continue to do important activities of daily living such as sitting in a chair and standing up, driving your car and using the toilet, be sure to include squats in your fitness routine or work your glutes and quads in the pool or do both!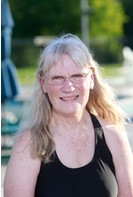 Chris Alexander