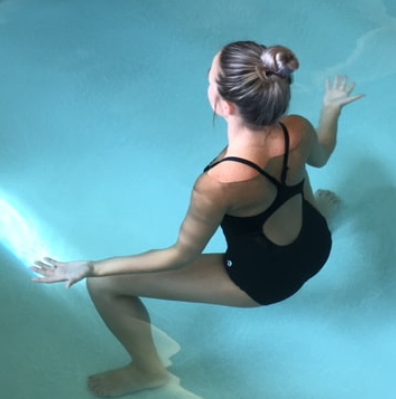 Ai Chi ("energy of love") is a water exercise and relaxation program that combines deep breathing and slow, large movements, performed in continuous, flowing patterns. It was created by Mr. Jun Konno of Japan and further developed by Ms. Ruth Sova in the United States. In spite of the similarities in names, Ai Chi is not a variation of Tai Chi. It has 20 movements: Contemplating, Floating, Uplifting, Enclosing, Folding, Soothing, Gathering, Freeing, Shifting, Accepting, Accepting with Grace, Rounding, Balancing, Encircling with a Shift, Encircling, Surrounding, Nurturing, Flowing, Reflecting and Suspending. For a demonstration and a description of Ai Chi, download Ms. Sova's video, Ai Chi Quick and Easy from her DSL LTD store. Scroll down to the Techniques: Ai Chi – Video section, to the fifth row, and place your order. It's free.
There is a focus on breath during Ai Chi. Take slow deep diaphragmatic breaths that expand the ribcage. Inhale with arm movements toward the surface of the water or away from the midline of the body, with the palms facing up. Exhale with arm movements toward the pool floor or toward the midline of the body, with the palms facing down. Do not worry about inhaling or exhaling at the wrong time. With practice, matching the breaths to the movements becomes natural. However it turns out is how it was meant to be for that session.
Ai Chi is used by aquatic therapists and rehab specialists for a variety of outcomes. For example, Ai Chi improves balance and reduces the risk of falling. Shifting, Accepting, Rounding, Balancing, Encircling with a Shift, and Nurturing are all movements that involve shifting the torso away from and back toward neutral, which is a skill necessary for recovering balance. Gathering, Freeing, Accepting, Encircling, Surrounding, and Nurturing are performed with a narrow base of support, which challenges balance. Lateral stepping becomes more difficult with age; Flowing involves steps to the side. Being able to reach over a certain distance is a predictor for fall risk; Gathering, Freeing, Accepting, Rounding, Balancing, Encircling, and Nurturing all involve reaching in various directions. Gait variability decreases with age because of decreased rotation in the spinal joints; Gathering, Freeing, Reflecting and Suspending all involve turning. In addition, having the eyes follow the hands during upper body movements increases cervical spine rotation. (Ruth Sova MS ATRIC, "Ai Chi and Fall Prevention" 3-11-2022)
Spiraling Ai Chi, in which the upper body movements are lead with the back of the hand, is used to enhance and create movement in areas where the neuromuscular movement has been compromised. Spiraling Ai Chi is designed to be multi-planar and multi positional. Diagonal patterns are used to increase coordination and promote joint stability. (Spiraling Ai Chi Course description)
Psychotherapists have used Ai Chi to treat patients with heightened anxiety or depression. People with heightened anxiety are "over the top" and people with depression are "under the bottom." Ai Chi helps calm the nervous system so that the patient becomes more in touch with his/her body, reducing physical and emotional pain. Ai Chi movements are mindful, which is defined as present-centered awareness with the mindset of nonjudgment, openness and acceptance. Patients have been able to experience a sense of inner calm. (Patricia Henry-Schneider MS, LPC, "Ai Chi as a Model of Calm" 5-6-2022)
Ai Chi's slow movements in water have been used to help wounded warriors who have lost a limb, learn to balance without being able to feel their prosthetic limb on the pool floor. (Ai Chi Day, 7-25-2021)
Women with multiple sclerosis who practiced Ai Chi showed notable improvements in muscle strength, functional mobility and fatigue. (Rena Goldman "Health Spotlight: Ai Chi" 5-2-2018))
Ai Chi was found to be effective for improving function, mobility and balance in patients with mild to moderate Parkinson's. (Goldman)
After 10 Ai Chi sessions, women with fibromyalgia experienced improvements in pain levels, mental health and quality of life. (Goldman)
I am a water fitness instructor, not an aquatic therapist. I use periodization with my classes, which means that I progress my classes by increasing intensity over a period of time until participants reach peak fitness. I love using Ai Chi as the cool down at the end of a high intensity interval class. And a long session of Ai Chi works great for the active recovery season that follows peak fitness to allow the muscles to rest, heal any microtears that may have occurred, and replenish their energy reserves. (For more about periodization see my book Water Fitness Progressions.) I created a modification of Ai Chi for my deep-water classes that Ms. Sova is going to include in a book on Ai Chi variations. Watch for it to show up in her DSL LTD store.
NOTE: The photo above is from a recording of Ai Chi Day 2020 which can be purchased in the DSL LTD store.
See you in the pool!