Many states have loosened social distancing restrictions in order to get the economy going again. Now, however, we are seeing a rise in Corona virus cases. We would all like to know what to expect with this pandemic, but there is no way to know for sure how it will play out. My doctor's practice, USMD Health System, has suggested three possible scenarios:
Scenario One — Begins with an initial wave in Spring 2020 followed by a series of smaller waves of infection that last up to two years.
Scenario Two — Begins in Spring 2020 and is followed by a second, larger wave this fall or winter and a smaller one in 2021. If this happens, communities will likely return to quarantines.
Scenario Three — Begins in Spring 2020 and is followed by what the Center for Infectious Disease Research And Policy (CIDRAP) describes as a "slow burn." That means there's no clear pattern. This scenario would likely not cause communities to return to quarantines, but infections and deaths would continue.
No matter the scenario, CIDRAP says we should prepare for another 18-24 months of COVID-19. That means we should continue to practice social distancing, wear face masks in public, and wash our hands often.
Our swimming pools have reopened. Lap swimming, swim lessons and water fitness classes are resuming. What should we know about the safety of returning to the pool and what kind of cautious response should we make? Sara Kooperman (the owner of SCW Mania Fitness conventions) and John Spannuth (the president of the US Water Fitness Association) have both asserted that chlorine used to disinfect pool water kills COVID-19. Craig Lord, the Swimming World Editor-in-Chief, agrees that disinfectants, including chlorine, act on viruses and it is reasonable to expect that would include COVID-19. He adds that pool operators also need to observe strict hygiene protocols, including correct maintenance of pool water and air in the facility, as well as heightened levels of cleaning of adjacent surfaces and environments, since the fundamental mode of transmission of COVID-19 is air and not water.
It is likely that if your favorite pool is reopening, the pool operator is aware of the necessary protocols and has trained the staff properly. Those of us who will be using the pool to teach or participate in a water fitness class also need to do our part. Yes Fitness Music has made the following suggestions:
Outdoor pools are safer because air circulation outdoors is better than indoor air circulation.
Our Texas sun and heat often makes an indoor pool preferable. Ask about the air ventilation. Fresh air is better. If the air is recycled, it should go through a filtration system.
Wear a mask.
Maintain social distancing, 6 feet away from the other swimmers or class participants.
Wash your clothing, towels and masks directly after class.
We can all do our part to protect ourselves and those around us. Enjoy the pool safely!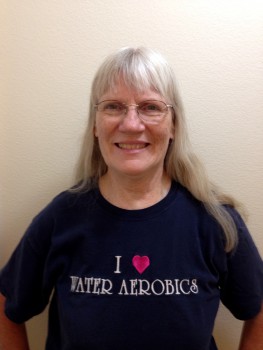 Chris Alexander