Stuck at home? Dreaming of the days early last year when you were killing it at your local aquatic center? Well, you've come to the right place. With a little tweaking of your routine, a willingness to try new things, and the determination to see it through, you can stay in shape until you feel safe enough to return to the pool.
Water Fitness Lessons is dedicated to aquatic fitness. For guidelines on how to safely swim during the pandemic as well as other helpful insight, be sure to bookmark my blog!
Exercising When You Can't take an Aquatic Fitness Class. If your favorite physical activity is water exercise or swimming, and you're still not ready to get into the water, there are other ways to stay active until it's time to jump back in the pool:
Finding Effective Home Workouts. In addition to biking or running, look to at-home workouts to switch up your routine and keep your muscles guessing:
Staying Motivated. It's important to find ways to stay motivated, so find some tried and true ways to make these new routines stick:
Yes, sticking with your aquatic fitness routine is great, but until you can get back there, find other ways to take care of yourself. Exercise, eat right and stay well.
This guest Blog post was written by Anya Willis. Check out her website at FitKids
We hope to see you back in the pool soon!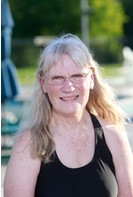 Chris Alexander